Lewis Edwin "Lou" Marsh was born on February 17, 1879, in Campbellford, Ontario. He died on March 4, 1936.
Best remembered as an exceptional natural athlete, a highly regarded referee, and a pioneer in sports journalism who created a new lexicon, Lou Marsh was so much more. A man of action and deeds he was fascinated by everything and everyone. He left his mark in untold places. Save for many needy recipients, few knew the magnitude of his great and private generosity. An excellent swimmer, he saved countless lives, plunging into the icy waters of Lake Ontario to perform the rescue, disregarding his own heart condition. He enlisted with the 180th Sportsmen Battalion, in World War One, attaining the rank of major while briefly serving in France. His sporting arena was universal and it comprised everything on land and in the water.
He gave us a truly unique gift of words in his trademark daily column, 'With Pick and Shovel.' Its impact and brevity were genii. His efficient writing style was likely an invention that permitted him more time to indulge in doing. For in today's terms he was a turbo-charged type "A."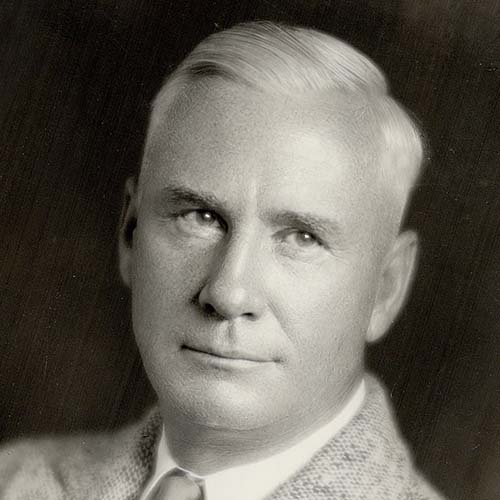 A small portion of a telling testimonial by a colleague and friend follows. Its full content, attached below provides a comprehensive picture of a truly remarkable man.
Greg Clark, The Toronto Daily Star, Front Page, March 5, 1936
So goes out a light that has burned in The Star for 43 years. So passes surely the most fascinating personality in the sports world for more than a quarter of a century. A little red-headed lad of 14 came into The Star office the very first year The Star was born and got a job as a copy boy. Today, from coast to coast of the great Dominion, from the tip of Cape Breton to the Yukon, in cities and lumber camps, across prairies and in mountains, men are recounting the legends and tales of Lou Marsh, sports editor, sports critic, sports promoter, master of a new and vibrant language all his own, hero of a thousand collisions in the world of sport, and generally, the humorous and generous-hearted victor, saver of lives, demander of action, far-darting critic of everything shabby in sport and in life itself, dog lover, showman himself of the front rank, sailor, rugby player, sprinter, ice-boater, boxer, swimmer, gunner, angler… tall tales are being told this day of Lou Marsh. And the strangest of them all, they're true!
Lou Marsh Trophy
The Lou Marsh Memorial trophy is a cherished prize that symbolizes the highest achievement in Canadian sport. Its recipients represent the fabric of Canadian sport. The names of women, men, amateurs, professionals, team players, rookies and veterans, from a diverse Canadian sporting landscape, occupy a place on this revered trophy.
A natural all-around athlete and a pioneer in sports journalism, Lou Marsh embodied the highest principles and ideals of sport. When he died suddenly in 1936, Canada lost its most widely read sportswriter and a sporting career the likes of which had never been seen. Appropriately, his name was immediately equated to a quintessential Canadian athletic award; its first winner was announced that very year.