Many Canadians are unable to quantify their long careers. Gerard Cote, a marathon runner, knows how to count his miles. In fact, he covered more than 100,000 of them by competing in 264 races, 75 of which were marathons.
Cote, was born into a family of eleven children in St. Hyacinthe, Quebec, and began his career as a boxer. However, while exercising to improve his leg strength, his passion for road work led him to leave his boxing ambitions. He switched to long-distance running instead. His tiny, graceful legs propelled him to international renown, so it was definitely a sensible decision.
In 1940, he won the first of his four Boston Marathons. Cote, who liked enormous steaks and thick cigars, trained and competed without the help of a team of teachers or trainers. He turned there that year with only seventeen dollars in his wallet and no one but his father as a sponsor, relying only on his own expertise and intuition. This is why he was able to win the world's most famous long-distance race faster than any other human.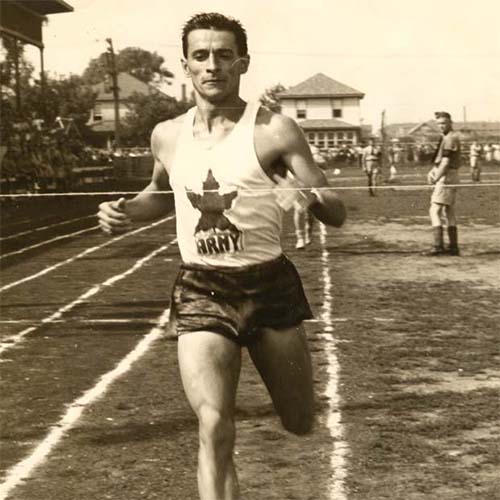 He won three more times in 1942, 1943, and 1948. Cote won three US Amateur Athletic Union marathon titles and 3 Yonkers marathon races on his route to 112 career victories, amazing 56 seconds, and legendary 26 third-place finishes. Cote demonstrated himself as a gentleman above and beyond an athletic marvel in his Yonkers victory of 1940: he was racing effortlessly and leading the pack, easily within reach of the record time. A young woman in a car urged him to keep going and smash the record as he reached the race track's gates and the final lap. Pat Dengis, the previous three-time champion and current world record holder, was her husband. Dengis tragically died in a car accident the following year. Mrs. Dengis, a remarkable athlete herself, encouraged Cote to break her husband's record. Cote, on the other hand, slowed down.
He won the race, but in honour of his great opponent, he declined to break the record. He did have a sad 17th place finish at the 1948 Olympic Games in London because of a calf cramp. But of the loss, he once observed at a banquet meal in his honour, "In a characteristically philosophical and lovely style, "We must combine triumph with defeat. It's not beneficial to eat a salad that consists entirely of one ingredient, such as lettuce. Victory is always a slam dunk. To get the flavour, you must mix it with defeat." Cote achieved a world record for eight miles on snowshoes in 1958, two years after retiring from competitive running.